Edit-a-thon/US Summer Editathon 2013
Jump to navigation
Jump to search
Come join us for the third #editathon event of 2013, a weekend of mapping on July 20-21. read all the details on the OpenStreetMap.us blog.
There is only one rule: when you save your changes to OpenStreetMap, add #editathon to your changeset comment, we'll use that to create a visualization of our edits afterwards.
Call for locations is open! Host an #editathon in your city and add yourself to the locations list below by July 12th.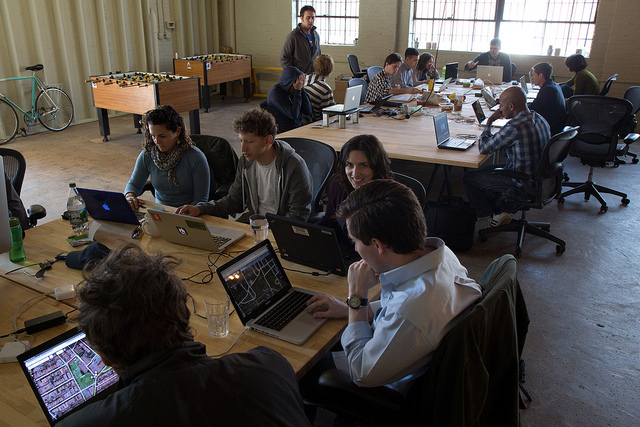 Spring Editathon in Washington, DC
Locations
Join us at one of the locations below or virtually on our IRC channel #osm-us on the irc.oftc.net network.
If you're planning to host, add yourself here! (Deadline: July 12th, Recommended: July 1st)
July 12 is very close to the actual editathon, we recommend you advertise your date and (rough) location as early as possible.
(add location, times and contact person)
What do I need to know to host an event?
The rule is simple: anything you commit to OpenStreetMap, should contain the hashtag #editathon in the comment
Your event can be an outside surveying event or an inside editing event
Design your event friendly to newcomers, make sure there's someone there to explain to first timers the fundamentals of OpenStreetMap and show them the first steps of editing and surveying.
The location should have fast internet, a place to sit for everyone. Remind attendees to bring a computer and a mouse and any other devices you'll need for your event.
Collect name and email from attendees, keep them to yourself. This information is to send on a feedback survey and only for that.